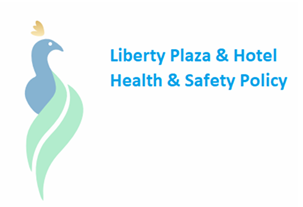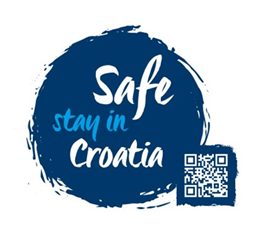 To ensure the highest level of guest safety, we have added new protocols to our daily operations in line with the Covid-19-related health organization's recommendations. To make our guests feel safe, we have created more space at the reception, in restaurants, at swimming pools and all other common facilities and rooms.
All our employees adhere to the following rules:
Physical distance
Mandatory wearing of protective masks
Daily measurement of body temperature
Disinfection of hands and work surfaces several times a day

Common areas
All information and instructions on keeping a physical distance, using disinfectants and other instructions related to the safety and prevention of infection with the Covid-19 virus are highlighted.
Regular disinfection of common areas and equipment and places that are frequently touched
Ventilation of enclosed spaces
The highest level of hygienic standards for water treatment and disinfection are ensured in swimming pools
Disinfectants
Reception
At the reception we have implemented high hygiene and safety standards that are in line with the recommendations of world health institutions
Protective barrier at the reception desk
Disinfectants
Pre-announced check out to keep the guest at the reception as short as possible
Rooms
Further improved standard of hygiene, which includes disinfecting key points, i.e. the most used items in accommodation units such as switches, telephone, TV and air conditioning controls, bed, bathroom surfaces, closet, work surfaces
Room cleaning is done at the request of the guest, there is a possibility to cancel the room cleaning service during the stay. If you need bed linen, towels or want to clean your room, you can request this at the hotel reception
Partners:
In order to ensure the highest level of guest safety, we ensure maximum safety and health of food and beverages in all restaurants and bars. Food and beverage management protocols are HACCP certified by SGS, the world's leading inspection, testing and certification company.
Buffet service, serving in accordance with the recommendations of the Croatian Institute of Public Health
Menus and price lists are available on request
Disinfection of tables, menus and price lists is carried out regularly after each guest and table setup is replaced
HACCP-certified food and beverage management protocols provided in hotel restaurants
Table distance is in accordance with the recommendations of the Croatian Institute of Public Health
All employees who are in contact with food are under sanitary supervision, which means that once a year their health condition is checked, if it is satisfactory, their sanitary card is certified for the next year.
All employees who are in contact with food undergo regular training on hygiene minimum conducted by health institutions
The Institute of Public Health regularly checks the health safety of food and water by taking samples of the same. Swabs of cutlery, work surfaces and staff hands are also taken